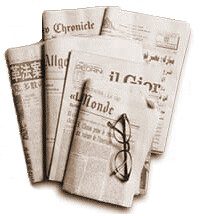 Ya está a vuestra disposición un resumen de las últimas noticias en el mundo del Business Intelligence, para que tengáis la información mas actualizada:
ParAccel Touts Columnar Analytic Database
Las Bases de datos orientadas a columnas parece que cada vez tienen mas relevancia.
Best Practices for Buying BI Software
Los mejores consejos para elegir la solución BI mas adecuada.
MicroStrategy Now the Leading Independent Provider of Open Systems Business Intelligence Software
Microstrategy esta lanzando el mensaje de que se han quedado como vendedor independiente lider... y no les falta razon.
Sun Teams with Oracle to Deliver Pre-Configured Data Warehouses
Parece que se esta formando una pareja interesante para acceder al mercado de Appliances.
Solo BI Vendors Have Something To Offer
Aun hay mucho campo de maniobra para los vendedores independientes.
SQL Power Releases Open Source Data Cleansing Tool
El Data Cleansing tambien es Open Source
JasperSoft Announces the Availability Jasper4Oracle E-Business Suite
Ya podemos montar Business Intelligence Open Source sobre la E-Business Suite de Oracle.
Survey Says: The Open Source BI Tools Really Are Coming
No lo decimos solo nosotros.