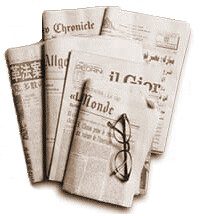 Ya está a vuestra disposición un resumen de las últimas noticias en el mundo del Business Intelligence, para que tengáis la información mas actualizada:

MicroStrategy Announces Availability of Inexpensive Business Reporting Software
Parece que gran competitividad y la entrada en escena de nuevos competidores provenientes del mercado Open Source, esta surgiendo efecto. Microstrategy lanzar una edición de Reporting para competir con Crystal Reports a precios iniciales de 150 $ por usuario. Habrá
que ver en detalle la oferta, no requiera de 'más componentes'.
Google Agonistes?
Interesante articulo en donde se desvela la nueva estrategia de Google en el campo de la búsqueda en entornos empresariales y su influencia en el Business Intelligence: Google OneBox Enterprise
Hyperion Nabs UpStream for BPM and Compliance
Parece que Hyperion quiere reforzar su posición en el emergente mercado del BPM, con esta nueva adquisición.
Oracle, the BI Superpower… Or Not?
Parece que a muchos líderes de opinión en el área de BI, no les da mucha confianza la nueva estrategia de Oracle, uniendo propiedades de Siebel, con algunas existentes de Oracle.
Microsoft's Data Visualization Coup

Definitivamente, la adquisición de Proclarity, con sus grandes funcionalidades, es una gran noticia para Microsoft.
Business Objects Gets Software-as-a-Service Religion
Siguiendo la estela (incluso en cuanto a apariencia) de Salesforce.com, BO potencia los servicios On Demand, funcionando totalmente via web, como una de sus grandes estrategias de cara al futuro.
Information Builders FOCUSes on Google—The Search Is On
Parece que ahora todos se quieren sumar al modelo de éxito de Google. Por el buscador, hasta el éxito, y han lanzado WebFOCUS Intelligent Search.
Business Intelligence Trends: A J2EE Cottage Industry
J2EE-friendly reporting products. No solo estan BIRT y JasperReports.
Pentaho Joins MySQL Partner Program as a Gold Partner
Parece que la propuesta Open Source esta clara, tras el pasado acuerdo con Jboss.
Information Builders Unveils WebFOCUS Power Painter to Set New Standard in Business Intelligence Usability
En IB han hecho una apuesta muy fuerte por la facilidad de manejo y ya estan incorporando AJAX, con lo que los usuarios estarán muy satisfechos.
New Open Source Business Intelligence Server Available From JasperSoft
Con el lanzamiento de JasperIntelligence y JasperServer, Jasper pretende desarrollar una suite BI completa, al mismo nivel de Pentaho.