The CTools is an Open Source toolkit developed by Webdetails , and now we present a windows installer for ctoolls, thanks to effort of our colleagues of stratebi
You can download too, STPivot , an improved alternative for old Jpivot
and try STDashboard and STCard in our demo section
The CTools are:
To install most of these projects
Pedro Alves
created the
CToolsInstaller
a bash script to automate the installation of most ctolls (CDA, CDE, CDF, CDE) and
Saiku
. Script that is fine but for people who are sometimes forced to work in environments that are not unix / linux it is cumbersome. There are guides that explain how to use it in Windows-but not just convinced me.
And as I implemented a version of
CToolsInstaller
for
PentahoLauncher
it did not cost me much extract that piece of code and create my CToolsInstaller for windows.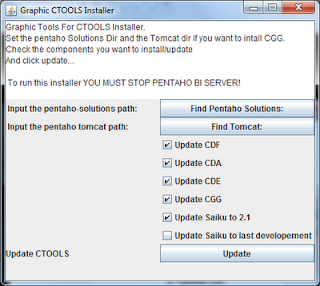 Notes:
CDF, CDA, CCC, CDE are developments made ​​by
Webdetails
.