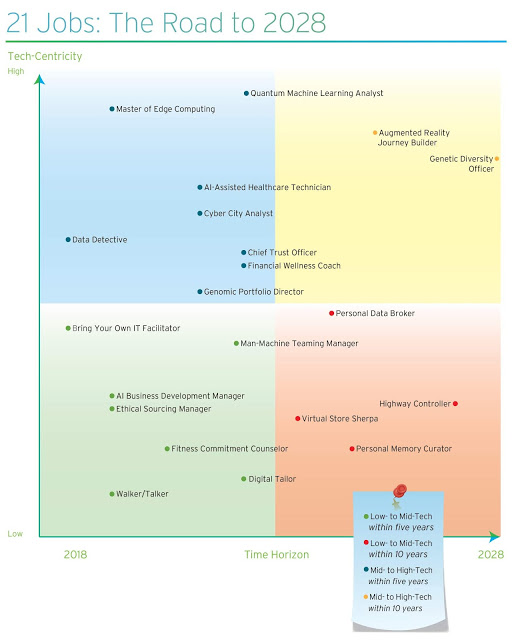 1. Data detective
Data detectives would investigate organizational data across a company, generating meaningful business answers and recommendations based on examining information generated by Internet of Things (IoT) endpoints, devices, sensors, biometric monitors, traditional computing infrastructure, and next-gen fog, mesh, edge, and neural capabilities.
2. Bring your own IT facilitator
Someone in this position would be responsible for fusing an organization's shadow IT operations with its digital workplace strategy. This facilitator would create a system for visibility into on- and off-premises environments, mobile and desktop systems, and applications and services consumed by corporate users to mitigate risks.
3. Ethical sourcing officer
An ethical sourcing officer would lead an ethics team, and ensure that the allocation of corporate incomes aligns with the standards set by customers and employees. This person would also investigate, track, negotiate, and forge agreements around the automated provisioning of goods and services, to ensure ethical agreement with stakeholders.
4. Artificial intelligence business development manager
An AI business development manager would work to sell AI products to customers. This professional would work with sales, marketing, and partner teams to develop and deploy targeted AI sales and business development activities.
5. Master of edge computing
The master of edge computing would define a company's IoT roadmap, carefully evaluate the technical requirements needed, and assess the feasibility for establishing the edge processing unit and measure the return on investments.
6. Walker/talker
A walker/talker would act as a conversational companion to elderly people, connecting with seniors through a platform similar to Uber.
7. Fitness commitment counselor
This individual would remotely provide one-on-one regular coaching and counseling sessions to improve wellness for participants, and track their progress via wearables.
8. AI-assisted healthcare technician
In this role, a person would be on the road and in surgery to examine, diagnose, administer and prescribe appropriate treatment to patients, aided by the latest AI technology and remotely accessible doctors.
9. Cyber city analyst
A cyber city analyst would ensure the safety, security, and functionality of a city, by ensuring a steady flow of data and keeping all technical equipment functioning.
10. Genomic portfolio director
This individual would be a business executive with a strong commercial background, who can shape the future growth of a company's biotechnology research and ensure that new product offerings fit customers' ongoing health requirements.

11. Man-machine teaming manager
As humans and robots increasingly collaborate, a man-machine teaming manager would help combine the strengths of each to meet business goals.
12. Financial wellness coach
A financial wellness coach could offer banking customers coaching to understand digital banking options and improve their financial health.
13. Digital tailor
Digital tailors would go to retail customers' homes to perfect the fit and finish of their e-commerce-ordered clothes.
14. Chief trust officer
This professional would work alongside finance and PR teams to advise on traditional and cryptocurrency trading practices to maintain integrity and brand reputation.
15. Quantum machine learning analyst
Quantum machine learning analysts would research and develop innovative solutions by applying quantum technologies to improve the speed and performance of machine learning algorithms, and address real-world business problems in the fastest time possible.
16. Virtual store sherpa
A virtual store sherpa would assist customers with their online shopping, to help them better find the product that will meet their needs.
17. Personal data broker
These individuals would execute data trades on behalf of clients, and track new ways of maximizing a client's return on data.
18. Personal memory curator
A personal memory curator would create seamless virtual environments for elderly customers to inhabit. This person would consult with patients and stakeholders to generate specifications for virtual reality experiences that bring a particular time, place, or event to life to combat memory loss.
19. Augmented reality journey builder
AR journey builders would design, write, create, calibrate, gamify, and personalize the next generation of AR experiences.
20. Highway controller
This professional would act as a full-time space controller to regulate road and airspace in a large city by monitoring and programming AI platforms used for space management of autonomous cars and drones.
21. Genetic diversity officer
Beyond racial or gender diversity, a genetic diversity officer would work closely with business unit heads to ensure genetic inclusion within an organization.