Os presentamos una herramienta Open Source muy interesante de los desarrolladores de Lyft (el blablacar americano): Amundsen.io. Os contamos lo que puede hacer
Descubrir datos de confianza
Busca datos dentro de la organización mediante una simple búsqueda de texto. Un algoritmo de búsqueda inspirado en PageRank recomienda resultados basados en nombres, descripciones, etiquetas y actividad de consulta/visualización en la tabla/cuadro de mandos
Ver metadatos automatizados
Fomenta la confianza en los datos utilizando metadatos automatizados: descripciones de cuadros y columnas, otros usuarios frecuentes, cuándo se actualizó el cuadro por última vez, estadísticas, una vista previa de los datos si se permite, etc. Facilitar el triaje vinculando el trabajo de ETL y el código que generó los datos
Compartir el contexto con los compañeros de trabajo
Actualiza las tablas y columnas con descripciones, reduce las innecesarias idas y venidas sobre qué tabla usar y qué contiene una columna.
Aprende de los demás
Mira los datos que los compañeros de trabajo usan frecuentemente, poseen o han marcado. Aprende cómo se ven las consultas más comunes de una mesa viendo los tableros construidos en una mesa determinada.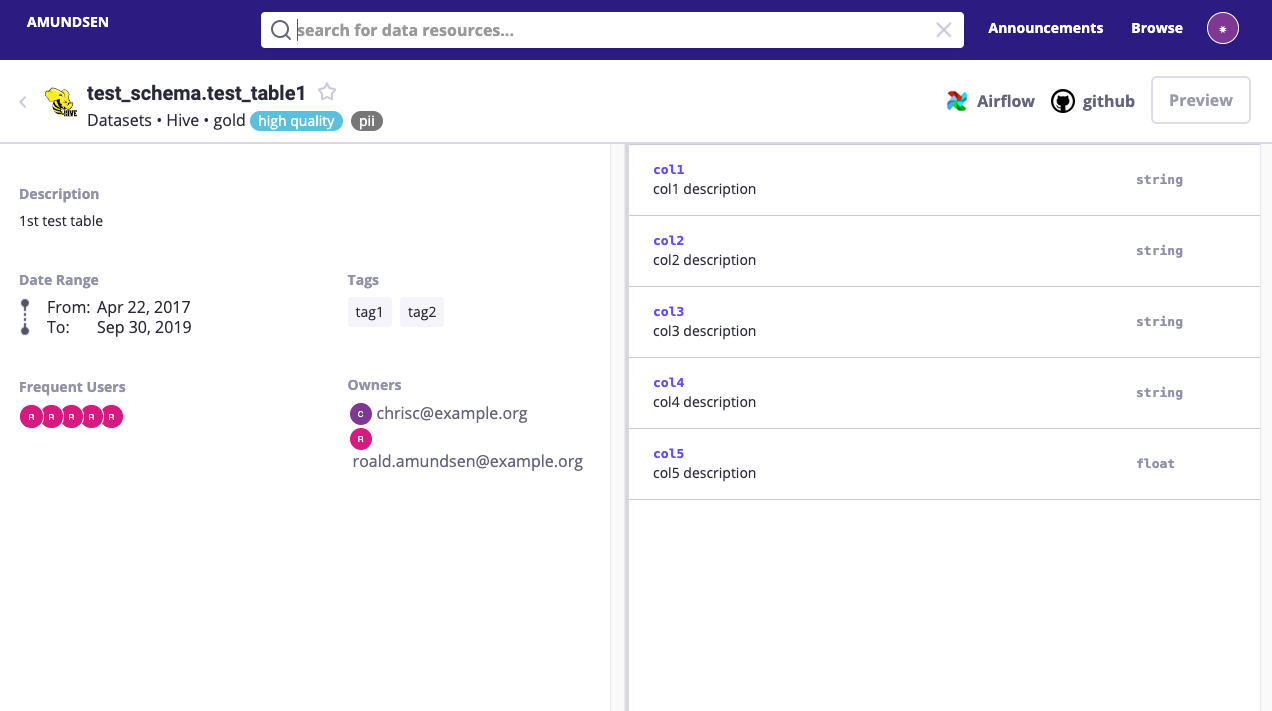 Getting Started
Please visit the Amundsen installation documentation for a quick start to bootstrap a default version of Amundsen with dummy data.
Architecture Overview
Please visit Architecture for Amundsen architecture overview.
Supported Entities
Tables (from Databases)
People (from HR systems)
Dashboards
Supported Integrations
Table Connectors
Amazon Glue and anything built over it (like Databricks Delta - which is a work in progress).
CSV
Oracle (through dbapi or sql_alchemy)
Amundsen can also connect to any database that provides dbapi or sql_alchemy interface (which most DBs provide).
Dashboard Connectors
ETL Orchestration
BI Viz Tool
Installation
Please visit Installation guideline on how to install Amundsen.
Roadmap
Please visit Roadmap if you are interested in Amundsen upcoming roadmap items.
Blog Posts and Interviews
Talks
Related Articles
Community meetings
Community meetings are held on the first Thursday of every month at 9 AM Pacific, Noon Eastern, 6 PM Central European Time. Link to join
Upcoming meetings & notes
You can the exact date for the next meeting and the agenda a few weeks before the meeting in this doc.
Notes from all past meetings are available here.
Who uses Amundsen?
Here is the list of organizations that are using Amundsen today. If your organization uses Amundsen, please file a PR and update this list.
Currently officially using Amundsen:
License