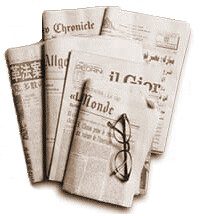 Ya está a vuestra disposición un resumen de las últimas noticias en el mundo del Business Intelligence, para que tengáis la información mas actualizada:
SQL Server 2008: A Case of Too Much Too Soon?
O de como si tienes unos clientes satisfechos con SQL Server 2000 o 2005, pasar a la nueva version.
BI Product Release Dates: Better Late Than Buggy!
Las prisas no son buenas consejeras. Los fabricantes comerciales se apremian en sacar nuevas versiones, pero muchas incluyen bastantes bugs.
Choosing a BI Architecture for Mobile Devices
Como será el Business Intelligence para los dispositivos móviles?
Actuate Launches iServer Express to Meet the Report Deployment Needs of Eclipse BIRT Developers
Actuate sigue intentando monetizar su comunidad Open Source alrededor de BIRT con nuevos productos de pago.
LucidEra Announces Business Analytics-as-a-Service for Oracle Order Management
El BI On Demand de Lucidera da un paso mas allá de Salesforce.
Greenplum Updates Open-Source Based Database
Nuevas funcionalidades aparecen en GreenPlum 3, basado en PostgreSQL
Cognos and SPSS Announce a Complementary Software Partnership
Nuevas alianzas que se van fraguando