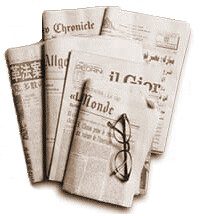 Ya está a vuestra disposición un resumen de las últimas noticias en el mundo del Business Intelligence, para que tengáis la información mas actualizada:

Will Oracle Offer Its Own Distribution of Linux?
Lo que hace un tiempo parecía impensable, ahora se presenta como una realidad muy tangible.
Pentaho Recognized as Open Source BI Leader by Entiva Group
Los estudios de mercado ponen de relieve que Pentaho es el lider en Business Intelligence Open Source.

IBM Touts All-in-One Information Integration Suite
IBM se lanza a por el mercado Business Intelligence sin complejos

Dashboard Ho!
Una nueva generacion de Cuadros de Mando y Scorecards ayudar a cerrar la brecha entre Business Intelligence y Performance Management.

In Focus: The Ins and Outs of BI Software Licensing
¿Por qué es tan complicado el modo en que se licencian los productos Business Intelligence?¿Deben los clientes conformarse con esta situación?
In Praise of Dashboard Ubiquity
Utilizar Cuadros de Mando no es sólo poner una guinda a un DW, tiene claros beneficios reales.
Panorama Software Announces Strategic OEM Partnership with Cartesis
Panorama se había quedado muy desubicada tras la compra de Proclarity por parte de Microsoft, por lo que este acuerdo con Cartesis puede ser bueno para ambos.

QlikTech Unveils QlikView Publisher Version 4
Una interesante novedad en el mercado, de una compañía que siempre ha destacado por su 'look & feel'
JasperSoft Launches the Professional Edition of JasperAnalysis
Una vez más, todo modelo Open Source debe apoyarse en una versión PRO, para todos aquiellos que no quieren renunciar a 'toda' la funcionalidad.
Business Intelligence: Origen y Futuro
Un interesante repaso a la evolución de la tecnología OLAP
Oracle Announces Oracle Business Intelligence Suite Enterprise Edition 10g Release 3
Un paso más, en la consolidación e integración con Siebel Analytics.
Oracle's ETL Power Grab Reconsidered
¿La compra de Sunopsis puede suponer el final de Oracle Warehouse Builder?