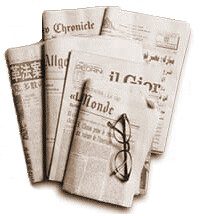 Ya está a vuestra disposición un resumen de las últimas noticias en el mundo del Business Intelligence, para que tengáis la información mas actualizada:
Business Objects Embraces Eclipse
Muchos no se hubieran creido hace no mucho que BO sacaría una versión de su popular Crystal Reports para Eclipse. Pues ha ocurrido.
JasperSoft's Burgeoning BI Stack Coming into Focus
Puede que estemos delante del nacimiento de un nuevo e importante jugador en el campo del Business Intelligence. Jasper ya tiene en marcha su JasperServer y su JasperIntelligence.

In Focus: The Ins and Outs of BI Software Licensing
Interesantísismo. La forma en que se licencian los productos Business Intelligence es una de las cuestiones mas importantes y complejas de abordar cuando se pretende implementar una solución de este tipo.
Will Open Source Be One of Your BI Sources?
Algunas preguntas y respuestas que debes saber sobre el modelo de negocio del BI Open Source.
A Closer Look: Oracle's New Warehouse Builder R2
Todo lo que hay que saber sobre la nueva version de la famosa herramienta ETL de Oracle.
InetSoft Technology Joins Eclipse Birt Project
Parece que el proyecto BI de Eclipse siguen cosechando adeptos. Hay que recordar que Actuate e IBM estan detras.
Oracle Completes Asset Purchase of Sigma Dynamics
Mientras se termina aclarar como quedara la suite Business Intelligence tras el proyecto Fusión, esta sigue adquiriendo compañías del área del Business Intelligence.
Information Builders Unveils New Release of WebFOCUS Performance Management Framework
Lanzamiento de una nueva versión de WebFosuc para Performance Management cuya una de sus bazas es el UI.
Business Intelligence Apps Available on Demand
Cada vez mas empresas imitan el modelo de Salesforce.com apliacado al BI. Una tendencia imparable.
Lower-Cost Options Free IT From Software Maintenance Fees
Las opciones cada vez mas baratas de implementar un sistema BI, estan liberando a muchos departamentos IT de los costes implicitos de mantenimiento que conllevan la soluciones tradicionales.
Panorama Integrates BI Tools With Google Spreadsheets
Muy interesante este movimiento. Supone que Google Spreadsheets no es sólo algo mas que tiene Google en la red. Puede ser una alternativa.