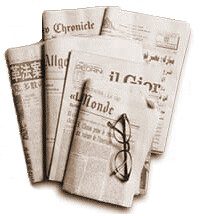 Ya está a vuestra disposición un resumen de las últimas noticias en el mundo del Business Intelligence, para que tengáis la información mas actualizada:

Wake Up, Smell the Java Reporting Reality

Si estas buscando herramientas de reporting basadas en java, no te quedes sólo con BIRT o Crystal, ahora llega Jreports.

SWOT: Business Objects and MySQL Expand Their Partnership

Alianza estratégica es de lo que hablan ambos. Productos complementarios. Y no les falta razón, pero a veces hay que dejar muy claros los términos del acuerdo.
European Commission Approves Oracle-Siebel Deal
Parece que Larry esta consiguiendo salvar todos los obstáculos.
And the Biggest BI Development of 2005 Is...
Cual ha sido el desarrollo principal en BI durante 2005 ? Dashboards, Master Data Management, SOA
Business Intelligence Year In Review: Was 2005 World-Historical?
Repaso de lo más interesante del Business Intelligence en el 2005
Contour Components Released New OLAP Component ContourCube 3.0
Los especialistas en tecnologia OLAP lanzan una ultima version de su producto. ¿Podrán seguir como jugadores en solitario durante mucho tiempo?
Third-Party Report Indicates That Implementation Cost for Oracle Daily Business Intelligence is 33 to 80 Percent of the Cost for SAP Business Information Warehouse
Creo que muchos ya lo sospechaban. Lo que hay que ver también, es si es una solución más completa, de lo cual tenemos dudas.
Teradata Ships Data Warehouse That Enables Enterprise Intelligence
La tendencia se acentúa. Cualquier interviniente en el mundo del BI intenta acceder a otras áreas, hasta ahora ajenas a su negocio.

Oracle Does The Math With New Pricing Equation
El nuevo sistema de licencias de Oracle parece favorecer a Sun, en detrimento de otros.
Reporter's Notebook: Business Intelligence
Mas previsiones sobre Business Intelligence en el 2006
Business Objects to grow services business
BO quiere aumentar de tamaño a toda costa. Para evitar adquisiciones hostiles hasta ahora habían optado por la compra de otras empresas más pequeñas. Ahora quieren aumentar de grosor a través de los servicios: consultoria, soluciones sectoriales, etc...
ProClarity Announces the Release of Analytics 6.1
Para los que se mueven principalmente en entornos Microsoft, esta nueva release es una gran solucion.