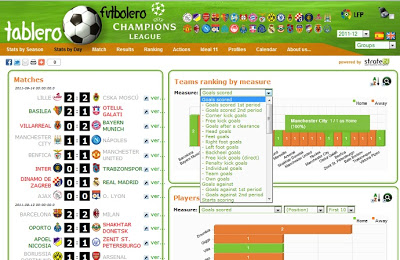 The Champions League Dashboard arose from the idea of showing all the benefits of Business Intelligence (BI) applied to an enjoyable and well known business as Football is. And, besides, using mostly Open Source Business Intelligence, like Pentaho , Kettle , Mondrian , STPivot ...
We´ve created too: Tablero Futbolero (Spanish League)
This website lets you analyze UEFA Champions League statistics in a user friendly and intuitive way; demonstrating how to convert from numbers to information. Starting from a beginner to become an expert on football stats.
Explore your favourite's team statistics and compare them to the other in search of characteristics and tendencies that could be affecting its results. Hope you enjoy it!!

Main Features:
Stats by season
Have a look at players and teams along the full season (or until the selected day).
League table and rankings
Complete season stats and metrics
Team rank depending on selected metric
Player rank depending on selected metric
Stats by day
Summary of the matches played in the current day beside the performance of teams and players:
Day final results of all matches
Day Stats.
Team rank depending on selected metric
Player rank depending on selected metric
Access to each individual match stats as well as team and footballers ones.
Match
All outstanding information referring to a selected match. Content:
Match statistics
Team lineups on the football ground
Match events (Goals, Cards, Substitutions, …)
Metrics by team
Player rank by metric
Season results
Show only your favourite's team results
Individual match stats
Team stats
Match results matrix
Custom ranking
Team, player, regions, day, match and referee ranks
Ad-hoc report which contains a wide variety of filters.
Analysis of passing sequences, assists, shots and goals
Analyze different sides of an offensive play
Histogram with percent of occurrence
Customized rank with multiple parameters
Don´t hesitate to contact us if you have any idea to improve Champions League Dashboard.