Gran articulo de Wayne Eckerson , sobre el amplio sector de las herramientas Business Intelligence, como ubicarlas, etc...
Se trata de un artículo más que recomendable para entener el mercado del Business Intelligence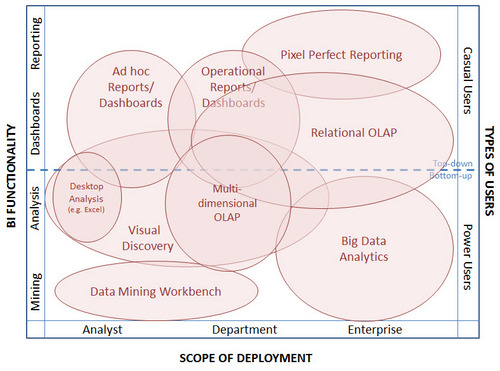 However, organizations don't need to purchase nine different tools from nine different vendors. Some large vendors offer suites of BI tools that span multiple technologies. Thus, it is possible for a company to standardize on a single BI vendor whose toolset encompasses all nine technology categories. But this may not be the best strategy since an "all-in-one" solution does not necessarily deliver "best of breed" products.
Este es uno de los puntos por los que nos gusta el BI Open Source. No tienes el compromiso de comprar un gran paquete comercial, si tienes solo unas necesidades concretas. O las puedes ir ampliando en el futuro a otros ámbitos, pero sin haber tenido que hacer una gran inversión inicial.
Consigues eliminar una gran barrera de entrada, además de que en la actualidad con BI Open Source, como puede ser el caso de Pentaho y otras, puedes cubrir todas las funcionalidades que comenta Wayne