Are dashboards pointing the way?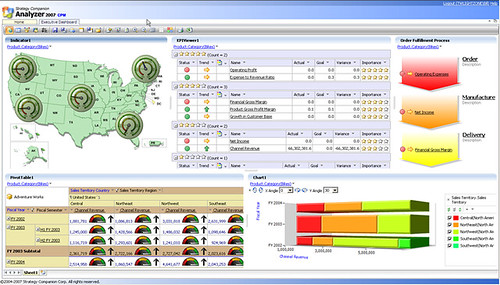 Si estais interesados en los Cuadros de Mando, os recomiendo el articulo de Tom Gonzalez (analista independiente y experto en Business Intelligence), que tiene su propia empresa:
http://www.brightpointinc.com/

Tom es un firme partidario del enfoque top-bottom (en donde todo gira alrededor del usuario), en donde los Cuadros de Mando tienen un papel muy relevante , como contraposición al tradicional 'data centric', centrado en los datos ( bottom-top ), donde lo importante es el almacenamiento de los datos para su explotación en último término.

Para llegar a esta conclusión se hace un repaso de como, dónde y por que surgieron los sistemas BI (en donde lo importante era manejar grandes cantidades de datos que no podían analizarse y se perdían, es decir lo importante era el almacenamiento y la arquitectura tecnológica), a un enfoque en donde lo principal es tomar decisiones estratégicas para obtener ventajas competitivas de forma rápida y ésto, solo lo podían realizar los usuarios finales o de negocio.
Finalmente, Tom indica que los Cuadros de Mando como herramienta BI, son la mejor herramienta para cumplir estos objetivos, pues (incluso en el caso de no hacerlos correctamente), el impacto económico no es tan grande.
Esta frase lo refleja muy bien:
"Dashboards are probably the first true end-user tool that can effectively deliver business intelligence data to every user within the organization with very little friction and low to no training costs. Done correctly, dashboards can be very effective business intelligence tools. Done incorrectly they can be little more than superficial window dressing."
Otros articulos interesantes sobre Dashboards:
-
How to build Dashboards using Excel data with InfoCaptor Dashboard Designer
, submitted by Nilesh Jethwa
-
Analyzer Dashboard Screen Shot
, submitted by Bob Abernethy
-
InfoCaptor Dashboard
, submitted by Nilesh Jethwa
-
Best Practices for Building Digital Dashboards
, submitted by Terrence Sheflin
-
Analyzer Multi-Parts Screen Shot
, submitted by Bob Abernethy