Cada vez vamos encontrando nuevas e interesantes aportaciones al campo del Business Intelligence Open Source.
En este caso, la compañía
Infobright
, sigue el tradicional esquema de ofrecer una versión
Enterprise
y una versión para la
Comunidad
, en el campo del DataWarehouse .
Pretende abrirse un hueco en el, hasta ahora no muy peleado campo de los DataWarehouse, donde compañías como Oracle, Teradata y Microsoft llevaban mucho asentadas, pero con iniciativas como los
Appliances
y otros muchos, la cosa está cambiando.
Infobrigth esta orientado para todos aquellos que les supone un gran esfuerzo (tanto en coste, como en dedicación y conocimientos humanos, mantenimientos, etc...) el montar un buen DW.
Para ello, nos olvidamos de indices, particionamientos y otras estructuras.
Aquí se pretende mejorar los rendimientos de las consultas, sobre todo aquellas contruidas 'on the fly'. Para ello, utilizan un sistema orientado a columnas (cada vez mas de moda: Sybase , Lucidera , Vertica ...)
En cualquier caso, lo mejor es que os descargueis la Versión para la Comunidad y probeis directamente, nosotros estamos en ello.
Por otra parte, parece que se están moviendo bien (por ejemplo,
acaban de llegar a un acuerdo con Jasper
).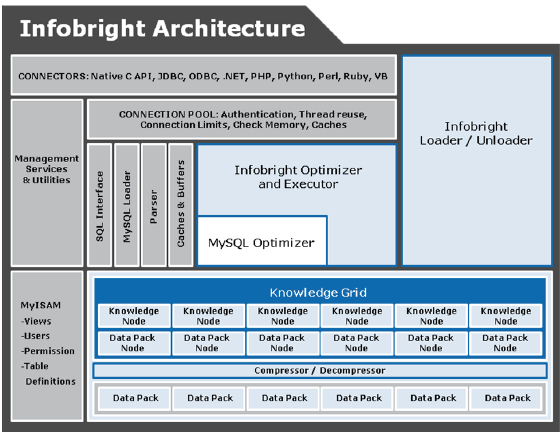 Mas informacion:
ICE Architectural Overview(Sept 2008)
Building Quick, Inexpensive & Flexible BI Environments
Data Warehousing with MySQL and Infobright.
ICE v3.0 Specifications