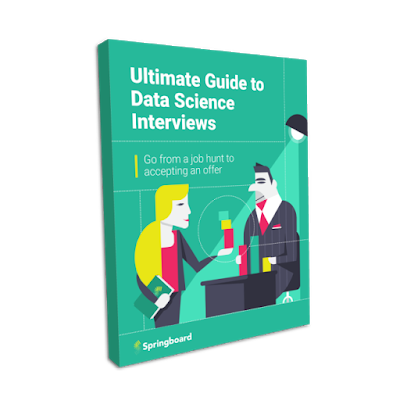 What's inside?
90 pages of original research, interviews with real data scientists and hiring managers at some of the best data science teams on earth, as well as recruiters and successful candidates who are now data scientists, and actionable checklists. We'll walk you, step-by-step through everything you need to know to ace the data science interview.
You'll start by understanding the different roles and industries within data science so you can apply for jobs that are the best fit for you.
Next, you'll learn how to apply for these jobs to maximize your chances of getting an interview.
Then, you'll go over every step of the data science interview process so that you can prepare for what's coming.
Next, you'll get free sample questions that cover the categories of questions you can expect to receive, which you can use to practice how you approach the data science interview.
Then, you'll get advice on what to do after the interview to move the process forward.
Finally, you'll know what to do if you're juggling between different offers.
Table of Contents:

Introduction
What is Data Science?
Different Roles within Data Science
How Different Companies Think About Data Science:
Early­stage startups (200 employees or fewer) looking to build a data product
Early­stage startups (200 employees or fewer) looking to take advantage of their data
Mid­size and large Fortune 500 companies who are looking to take advantage of their data
Large technology companies with well­ established data teams
Industries that employ Data Scientists
Getting a Data Science Interview
Nine Paths to a Data Science Interview
Traditional Paths to Job Interviews:
Data Science Job Boards and Standard Job Applications
Work with a Recruiter
Go to Job Fairs
Proactive Paths to Job Interviews:
Attend or Organize a Data Science Event
Freelance and Build a Portfolio
Get Involved in Open Data and Open Source
Participate in Data Science Competitions
Ask for Coffees, do Informational Interviews
Attend Data Hackathons
Working with Recruiters
How to Apply
CV vs LinkedIn
Cover Letter vs Email
How to get References and Your Network to Work for You
Preparing for the Interview
What to Expect:
The Phone Screen
Take­home Assignment
Phone Call with a Hiring Manager
On­site Interview with a Hiring Manager
Technical Challenge
Interview with an Executive
What a data scientist is being evaluated on
The Categories of Data Science Questions
Behavioral Questions
Mathematics Questions
Statistics Questions
Scenario Questions
Tackling the Interview
Conclusion
What Hiring Managers are Looking For:
Interview with Will Kurt (Quick Sprout)
Interview with Matt Fornito (OpsVision Solutions)
Interview with Andrew Maguire (PMC/Google/Accenture)
Interview with Hristo Gyoshev (MasterClass)
Conclusion
How Successful Interviewees Made It:
Sara Weinstein
Niraj Sheth
Sdrjan Santic
Conclusion
7 Things to Do After The Interview:
Send a follow­up thank you note
Send them thoughts on something they brought up in the interview
Send relevant work/homework to the employer
Keep in touch, the right way
Leverage connections
Accept any rejection with professionalism
Keep up hope
The Offer Process
Handling Offers
Company Culture
Team
Location
Negotiating Your Salary
Facts and Figures
Taking the Offer to the Best First Day
Templates
Reaching out to get a referral
Following up after an interview