Actualizado:
Diciembre 2012!!!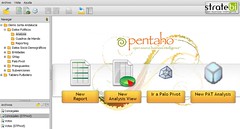 Como sabéis desde hace tiempo tenemos online una demo de Pentaho, con la que podéis 'jugar' probar, etc... los principales aspectos de visualización: informes, cubos y Cuadros de Mando.
Os comentamos que hemos incluido algunas mejoras y otras que seguiremos incluyendo proximamente. También la hemos redirigido a una nueva ubicación;
http://sample.stratebi.es

Para los que ya tenéis la clave, podéis seguir usándola (es la misma), para los nuevos, no tenéis más que pedirla aquí .
Algunas novedades:
- Inclusión de Pentaho Analysis Tool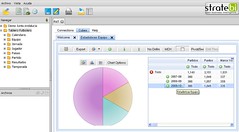 - Inclusion de Palo Pivot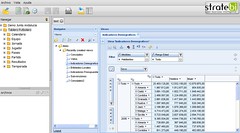 - Inclusión de STPivot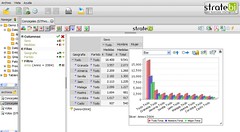 - Informes adhoc, resolución de bugs y mejoras en Cuadros de Mando
Se trata una recopilación de Demos que hemos realizado utilizando soluciones Business Intelligence Open Source , además de numerosos ejemplos, referencias, etc...
Al acceder hay dos modelos. En el primero, usamos el modelo de la Junta de Andalucía , para mostraros algunas de las funcionalidades que se pueden realizar. Ya os anticipamos que seguiremos mejorando poco a poco la sección de demos, con nuevos Cuadros de Mando, análisis, etc....
También incluimos acceso al Tablero Futbolero, el desarrollo basado en las Estadisticas de la Liga de Futbol Española.
No dudéis en escribirnos con vuestras ideas, sugerencias, pruebas, mejoras, etc... Tenemos la puerta abierta, para todo el que quiere colaborar!!

Demo
Solicitud Clave

This Demo has been developed using the Junta de Andalucia model as a reference. It uses sample data and we want to show most of the funcionalities that Pentaho offers to end users.
If you wish to know how these solutions are developed and about the Designer tools: Reports, OLAP Schema, ETL... don´t hesitate to contact us.
For accessing this Demo On-Line, only
click here
.
Esperamos realmente que os guste y sería muy interesante recabar vuestra opinión con sugerencias, mejoras, etc... Así mismo, estamos abiertos a todos los que quieran incorporar o desarrollar algún componente, etc...
La idea es ir mejorando la demo con nuevas funcionalidades.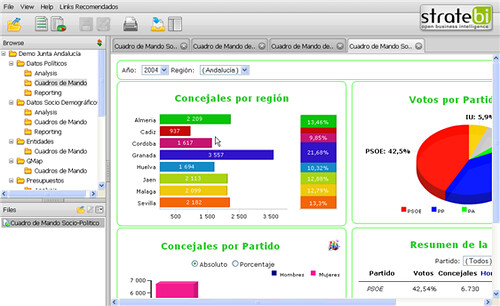 Si queréis contactar: