El pasado 13 de Junio se celebro en Mainz (Alemania), la que ha sido hasta la fecha la principal reunión de desarrolladores de Pentaho .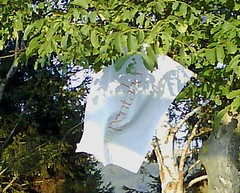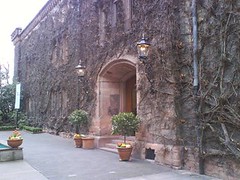 El magnifico lugar del evento
En dicha reunión estuvo lo mas granado del BI Open Source, realizando sus presentaciones y allí tuvimos la suerte de estar presentes Todobi y
Stratebi
con Alvaro Galán y Javier Gimenez , donde tuvimos la oportunidad de codearnos con los auténticos gurus de Pentaho, Kettle, Jreport, Jpivot, etc...
Aquí teneis
la lista de asistentes
.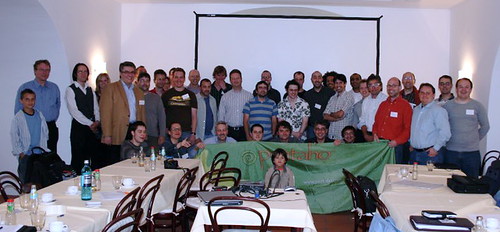 Foto de Familia
Entre los que destacaban:
-
Matt Casters
(creador de
Kettle
)
-
Julian Hyde
(creador de
Mondrian
)
- Andreas Voss (creador de
Jpivot
)
-
Thomas Morgner
(creador de
Jfree Report
)
- Doug y
Gretchen Moran
de
Pentaho
.
-
Roland Bouman
(Mysql)
y muchos mas....
¿De qué se habló en el Meeting?
Pues de muchas cosas interesantes. Gretchen Moran estuvo tomando unas notas de lo que allí se comento.
Leer aquí
y que yo os resumo:
- Jens Bleuel , habló acerca del conector SAP para Kettle.
- Rob van Winden , habló acerca de casos de exito en Holanda con Pentaho; Benchmarking using XML with Pentaho.
- Luc Boudreau , sobre Scrum, metodologías agiles y desarrollo de Pentaho.
- Giovanni Chiozza , caso técnico sobre Kettle y rendimiento.
- Julian Hyde . Interesantisima presentacion sobre el futuro de Mondrian (incluyendo nuestras modificaciones en el código. Ver foto)
- Quick coverage of 3.0.3, 3.0.4, upcoming 3.1 releases
- Short demos: JPivot; Halogen
- Request from Julian for Halogen contributors
- Coverage of Aggregate Designer
- Automatic aggregate table builder; ui, command line Discussion of metadata \ schema compatability
- Matt Casters: Nuevas funcionalidades de Kettle y Pentaho Metadata.
- Benjamin Lienig , sobre como generar documentacion de Kettle.
- Ingo Klose y Pedro Alves, sobre el
Community Dashboard Framework
.
- Thomas Morgner: Nuevas funcionalidades en Pentaho Reporting.
Stratebi , aporto mejoras en el manejo de las dimensiones de alta cardinalidad para Mondrian, lo que permitírá a Pentaho enfrentarse a dimensiones verdaderamente monstruosas, con muy buenos rendimientos.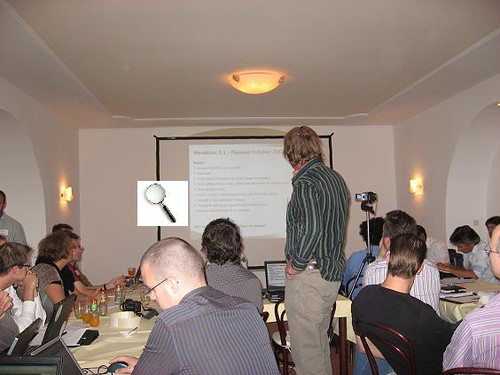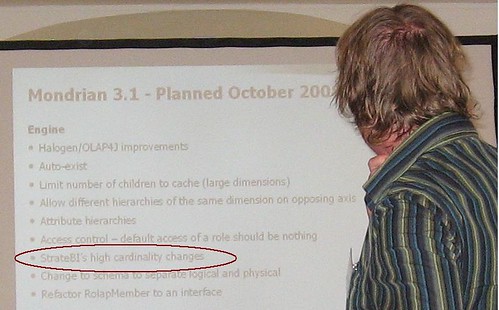 Aquí teneis mas fotos de este interesantisimo evento: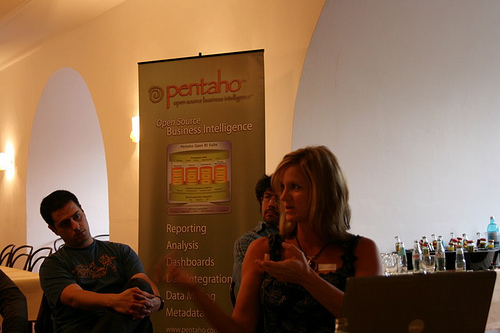 Alvaro prestando atención a Gretchen Moran, de Pentaho Corporation.
Julian Hyde (Mondrian) y Doug Moran (Pentaho), se 'animan' durante la visita a las bodegas.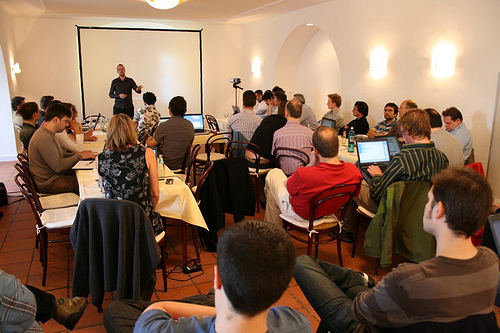 Panoramica de la sala. Nosotros, en primer plano.