TDWI
, probablemente una de las mejores webs sobre Business Intelligence, pone a nuestra disposicion una serie de Posters, de forma gratuita sobre Business Intelligence realmente interesantes y espectaculares.
Podéis bajarlos desde aquí , previo registro gratuito.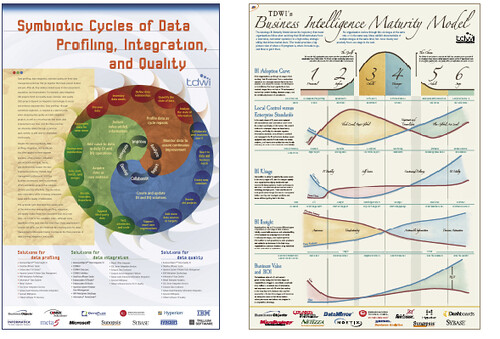 En el poster del año 2005: Business Intelligence Maturity Model , se nos explica graficamente como se utiliza el BI en cada una de las fases de análisis de la información por las que pasa una compañía. Con este Poster, se pretende mostrar de forma gráfica como las organizaciones pueden pasar de utilizar el Business Intelligence como algo acotado y puntual a ser el centro a nivel estratégico y de toma de decisiones, dentro de la compañia.
En el poster del año 2006: Symbiotic Cycles of Data Profiling, Integration, and Quality , podemos ver cual es el ciclo y sus interrelaciones entre los llamados procesos ETL, haciendo mucho hincapié en la calidad de los datos y en la integracion de fuentes externas. Además, se ofrece un compendio interesante de las principales herramientas que nos podemos encontrar en el mercado.
Tags: Destacado