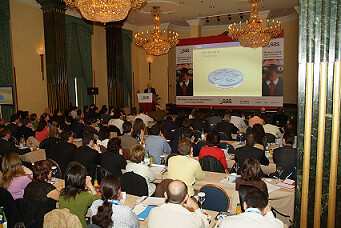 SAS
ha celebrado hoy en Madrid la V edición de su Foro de Customer Intelligence, The Power to Know your Customers V, patrocinada por Accenture .
Los más de 175 asistentes a este Foro han podido conocer de primera mano cómo las soluciones de SAS Customer Intelligence ayudan a las compañías a conocer mejor a sus clientes y a transformar ese conocimiento en la toma de las mejores decisiones. Bajo el lema The Power to Know your Customers , directivos de Bankinter y ONO han compartido sus experiencias de éxito en la relación con sus clientes gracias a la implantación de soluciones de SAS.
Ángel Rosón, Director Área CRM analítico de Bankinter , centró su intervención en cómo el conocimiento del cliente incide decisivamente en su rentabilidad y satisfacción. Rosón explicó cómo la compañía ha conseguido crear una visión integral del cliente, gracias al desarrollo de diferentes modelos de propensión de compra, de abandono, de calidad percibida y de valor del cliente. Bankinter es el ganador de la última edición internacional del Premio a la excelencia en CRM otorgado por Gartner.
Juan José González, Responsable de Inteligencia de Clientes Residencial de ONO , expuso la experiencia de su compañía en el diseño y puesta en funcionamiento de modelos predictivos de prevención del abandono, desarrollo de modelos de venta cruzada, segmentaciones en base al comportamiento y medición del valor de cliente, así como un interesante enfoque en el desarrollo de modelos de propensión al consumo de Pay Per View.