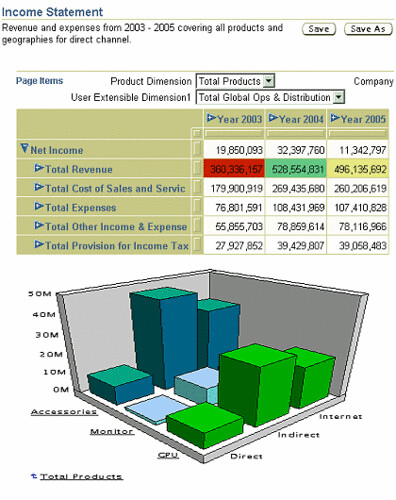 Que duda cabe que la inclusión del motor OLAP (Base de datos multidimensional), antiguo Oracle Express Server , dentro de la tradicional Base de datos relacional es todo un logro desde el punto de vista de desarrollo.
Sin embargo, queda por ver como de útil y potente es su uso en la práctica. Gracias a la colaboración de algunos de los que mas conocen del tema: Mark Rittman, Heiko Becker, Chris Chiappa, Jameson White y Anthony Waite, os cuento que han creado una información muy interesante con los mejores trucos y técnicas de diseño, optimizacion, agregación de datos, etc...
Oracle Database 10g OLAP Performance Tips and Techniques
Aquí se habla de que es la opción OLAP de Oracle y como se pueden realizar consultas de formas muy diversas: usando el lenguaje OLAP DML (antiguo express), el propio SQL o accediendo desde herramientas como Discoverer Plus OLAP.
Además de la instalación se habla del punto más importante en sistemas OLAP: el diseño. Como defino las dimensiones, la dispersión, el tamaño del analytic workspace, etc...
Además, os recomiendo otra serie de articulos de Mark sobre Oracle OLAP, que no debéis perderos.
"A
dvanced OLAP Analysis with OracleBI Discoverer and the Oracle 10gR2 OLAP Option"
: Conference Paper from the UKOUG Conference 2005, on using the OLAP capabilities in Discoverer 10g

"Enabling OLAP Analysis with Oracle Database 10g and Discoverer Drake"
: Conference paper from Oracle Open World 2004 that describes the OLAP analysis features in Oracle Business Intelligence 10g

"Oracle Database 10g OLAP Performance Tips and Techniques Part1"
and
"Part2"
(DBAZine)
"Testing the Incremental Load Improvements in 10gR2 OLAP"
"Creating OLAP DML Formulas Using AWM Templates"
"Introducing Oracle Business Intelligence 10g (And News On Oracle 10g OLAP)"
Como véis no es todo Analysis Services y MDX lo que hay en el mercado. Para los usuarios habituales de Oracle, la Oracle Option, es una gran alternativa. Aunque, en mi opinión requiere bastante intervencion manual y suficientes conocimientos técnicos. Esperemos que se simplifique en versiones posteriores.