Uno de los temas mas interesantes en el área del Business Intelligence y que muchas veces nos consultáis, es conocer comparativas de productos Business Intelligence. Pero, adémás de sus ultimas versiones y tendencias futuras, algo mucho mas dificil de conocer.
En el siguiente cuadro podéis ver unos breves apuntes que destacar sobre los últimos productos de los principales competidores en el campo del BI:
Actuate iServer v8, Business Objetcts XI, Cognos 8, Hyperion System 9, Web Focus 7, SQL Server 2005, Microstrategy 8, Oracle BI 10.1.2, SAP Netweaver 2004, SAS v9.13.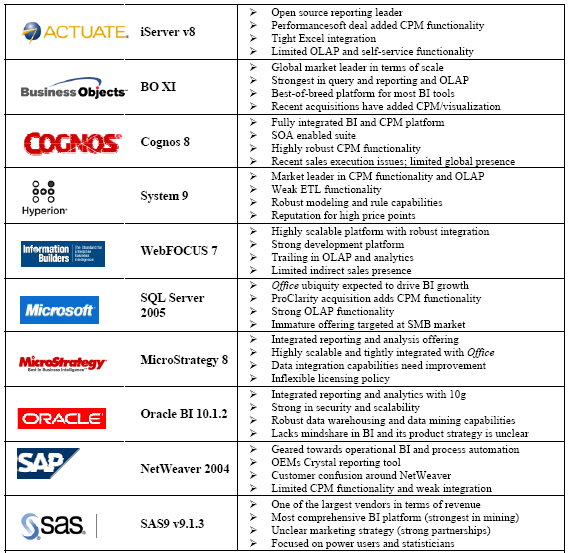 Para ver una información mucho más detallada y realmente interesante, le podéis echar un ojo al estudio
BUSINESS INTELLIGENCE: The Race Up the Stack
, de Boston Corporate Finance, que ya comentamos en un articulo anterior .