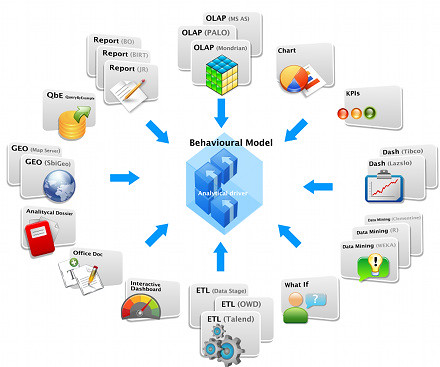 Se han convocado para este Diciembre una serie de webinars gratuitos muy interesantes sobre la suite SpagoBI (de origen italiano) y una de las más comprometidas con el enfoque Open Source. Aquí os dejamos información que hemos publicado sobre SpagoBI:
En
este enlace
tenéis toda la información y el registro para apuntaros.
Estos son algunos de los webinars que se celebrarán:
-
SpagoBI Suite
-
GeoBI Initiative: The Open Source Location Intelligence ecosystem
-
Distributed OSGi nodes with Spagic
-
Open Quality with Spago4Q
-
Open Source Business Intelligence Intro
Finalmente os dejamos los enlaces para descargaros Presentaciones en PDF de eventos ya realizadas, alguna de ellas muy completa y sobre todo con la visión de quien realmente sabe de de BI Open Source.
- Open Source Business Intelligence Intro, Stefano Scamuzzo -
Download the presentation
- Spagic Universal Middleware Intro, Antonietta Miele -
Download the presentation
- SpagoBI Suite, Chiara Chiarelli -
Download the presentation
- Distributed OSGi nodes with Spagic, Gianfranco Boccalon -
Download the presentation
- Open Quality with Spago4Q, Davide Dalle Carbonare -
Download the presentation
- Inquiry and watch your data in a smart way with SpagoBI, Davide Zerbetto -
Download the presentation
- GIS and BI with Open Source, Andrea Gioia -
Download the presentation
- Real-time Business Intelligence, Grazia Cazzin -
Download the presentation