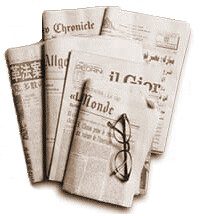 Ya está a vuestra disposición un resumen de las últimas noticias en el mundo del Business Intelligence, para que tengáis la información mas actualizada:

MicroStrategy Teams with Sybase to Enhance Scorecards and Dashboards with Streamlined Access to Multiple Data Sources
Continuan los acuerdos. A veces suelen ser la antesala de compras y fusiones. En este caso, teniendo como objetivo los scorecards y los cuadros de mando (algo de lo que ya llevamos tiempo hablando que será una gran demanda a futuro).
Data Mining: The New Weapon in the War on Terrorism?
Pues si. Mucho se ha hablado del uso del Data Mining en medicina e investigación, pero sólo es cuestión de imaginación suponer lo que pueden detectar los servicios secretos con estas herramientas.
Microsoft Selects WebTrends On Demand Web Analytics Solution
Parece claro que había que responder al órdago de 'Google Analytics'
Analysis: Microsoft's Business Intelligence Power Grab

La presentacion de Performance Point es uno de los hechos más ambiciosos en el campo del BI, por parte de Microsoft y ataca directamente el negocio de Cognos, Hyperion y Business Objects.

All The World's a Spreadsheet

El lanzamiento de Google Spreadsheets, es un ataque 'DIRECTO' a la 'herramienta Business Intelligence' más utilizada del mundo: Excel
SAS Jumps Into the Performance Management Fray
Ya lo veníamos diciendo hace tiempo. Ningín fabricante de BI se quiere encasillar, todos quieren tener la suite completa y SAS no iba a ser menos.
Believe It: Google Will Change Business Intelligence
Quien lo hubiera dicho hace unos meses.
Business Objects Survey Shows Executives Suffer From Presentation Burn Out
Consejos para que un Cuadro de Mando le guste a los ejecutivos.
Cartesis Takes First Step Towards Supporting Microsoft Office PerformancePoint
Esta claro que algunos ven claramente como se tienen que posicionar y quieren estar preparados para el lanzamiento de PerformancePoint
Pentaho Announces Pentaho Report Designer
Pentaho evita la dependencia de BIRT y Jasper Reports para construir informes de calidad.
Applix Acquires Analytics Software Maker Temtec
Una nueva adquisición entre fabricantes de segundo nivel, pero con una buena base instalada.

5 Things You Should Know Before Installing Vista Beta 2
Para aquellos 'osados' que quieren ir viendo que aspecto tendrá Windows Vista.