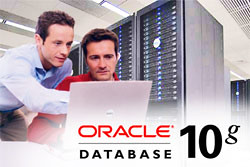 El rápido proceso de adquisiciones y fusiones que esta llevando a cabo Oracle, no debe hacernos perder de vista que el verdadero potencial es la Base de Datos. Es un hecho, que para mantener ese privilegiado número 1, necesitan ir incorporando nuevas funcionalidades que compensen la renovación de licencias y los mantenimientos.
Con la llegada de la versión 10G, se produce una de las versiones que mayores impactos va a tener precisamente en los DBA´s, con lo que podrán ahorrar una gran cantidad de tiempo y por ende, de dinero.
Sin embargo, uno de los grandes problemas con los que se encuentra Oracle es la con la sensación por parte de muchos usuarios de que la tecnología cada vez se hace más compleja y se han podido quedar anclados en versiones antiguas (7.3, 8i, 9i..) y les da miedo adentrarse en una nueva versión (aunque se prometan mejores prestaciones y un manejo mucho mas sencillo).
Por ello, ofrecen gratuitamente una serie de tutoriales muy útiles y prácticos para explicar estas nuevas funcionalidades y herramientas. Además, esta estructurado de forma que se puedan ir asimilando los conocimientos poco a poco. Semana a semana.
Week 1
—Flashback Versions Query
Week 2
—Rollback Monitoring
Week 3
—Tablespace Management
Week 4
—Oracle Data Pump
Week 5
—Flashback Table
Week 6
—Automatic Workload Repository
Week 7
—SQL*Plus Rel 10.1
Week 8
—Automatic Storage Management
Week 9
—RMAN
Week 10
—Auditing

Week 11
—Wait Interface
Week 12
—Materialized Views
Week 13
—Enterprise Manager 10g
Week 14
—Virtual Private Database
Week 15
—Automatic Segment Management
Week 16
—Transportable Tablespaces
Week 17
—Automatic Shared Memory Management
Week 18
—ADDM and SQL Tuning Advisor
Week 19
—Scheduler
Week 20
—Best of the Rest
Release 2 Features Addendum
Ha sido desarrollado por:

Arup Nanda, Manager Database Systems en Starwood Hotels and Resorts, ha sido un Oracle DBA durante más de 10 años y nombrado "DBA of the Year" por Oracle Magazine in 2003.