As we
told in our latest post
, our
Demo
comes with several new great improvements. One of them, is
Pentaho Launcher,
in wich has been working our colleague Juanjo
. You can access from the UI front panel of our demo.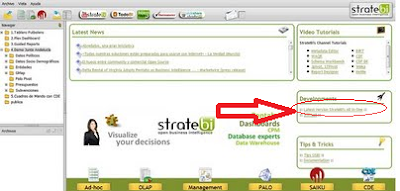 Pentaho Launcher is an interface to interact with Pentaho.The aim of this project is to provide a common GUI for all Pentaho Open Source BI suite.

In recent years we have been working with Pentaho and in many cases, the end of a project is to show the developments made and how to maintain and extend. That's why part of our work has been to teach how to use the Pentaho: Data Integration (Kettle) for ETL processes. Pentaho Reporting to generate reports.Mondrian Schema Workbench and Aggregation Designer for creating and maintaining OLAP cubes, etc..
During these courses the most widespread comment has been "too many applications, then we will not remember everything and that is to serve." And it's true. At first there are many applications and know what each one is a bit complex.
Is that why we have developed Pentaho Launcher to help everyone that starts with Pentaho. Pentaho Launcher is nothing more than a common launcher for all Pentaho. What brings Pentaho Launcher? Because it provides information and ease of use. A single interface for all applications Pentaho with a little explanation. A great help to all those that start with Pentaho.