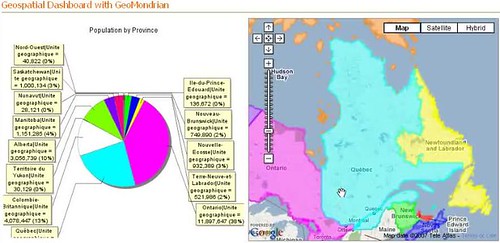 GeoSOA
Traigo a colación un desarrollo basado en Kettle y Mondrian para su utilización en sistemas GIS. Se trata de un proyecto liderado por Thierry Badard, Professor at the Department of geomatic sciences of Laval University in Quebec City (Canada).
Se trata de un esfuerzo por lanzar una solución Free y Open Source para crear soluciones analíticas Geoespaciales. GeoKettle , GeoMondrian ... suena bien...
Lo más importante es tener claro bien el enfoque de que un sistema Business Intelligence, para representar datos geoespaciales, no tiene porqué necesitar una solución Gis completa, sino solo aquellos elementos que permitan hacer foco en los datos, (su carga, almacenamiento y visualización). El enfoque de Thierry es de los primeros que va en esa linea.
- Presentacion (PPT) GeoSOA
- Video de la Presentacion
- Download