Os presentamos 'recién salido del horno', el último cuadrante de Gartner sobre Business Intelligence (Enero 2009), que os pongo a continuación. Este está disponible desde
aquí
.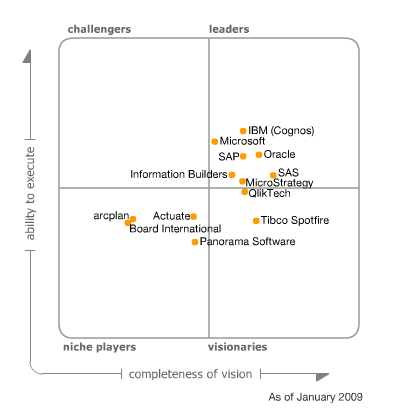 Temas Destacables:
- Ya empiezan a desaparecer Business Objects e Hyperion (suplantadas por SAP y Oracle) y Cognos está entre paréntesis de IBM. (Cuanto durará?)
- El grupo de los 7 u 8 lideres está bastante homogéneo y no hay ninguna solución claramente destacada.
- Business Objects parece haber perdido algo, probablemente, por que su integración con SAP no está siendo muy clara del todo.
- Es curioso que Tibco Spotfire, sin ser una solución BI completa, aparezca así posicionado en el cuadrante.
- A pesar de que Microsoft y Oracle se han retrasado en algunos planes de integración y nuevos productos, aparecen como mejor 'habilidad para ejecutar' que Microstrategy o Information Builders que llevan una linea más recta.
- Hay dos tipos de clientes: los que ven el BI como una extensión de su negocio y debe adaptarse a sus necesidades y los que se adaptan a una suite en concreto.
- Gartner habla de las 'nuevas alternativas': técnicas 2.0, DW aplliances, Open Source BI, Saas...
- Parece que la demanda de sistemas BI, continuará creciendo (sobre ésto ya haremos un post particular).
- Outsiders: Parece que empiezan a ser considerados: Bitam, Targit y LogiXML .
- Open Source: Knock, knock.... ya va sonando y cada vez con más fuerza. Se habla de Jasper y de Pentaho. Han sido invitados a ser incluidos en el próximo cuadrante.
Jaspersoft and Pentaho have emerged as viable players in the BI platform market and as such we invited these firms to take part in the Magic Quadrant user survey . Both open source vendors provide comprehensive BI platform capabilities that are comparable to traditional BI platform vendors. A key part of both vendors' strategy is to forge OEM relationships with commercial independent software vendors (ISVs) looking to easily embed BI functionality at a low price point. Jaspersoft and Pentaho enable ISVs to OEM open-source BI components without being bound by the GNU General Public License (GPL) terms and conditions. Given their subscription-based model, both vendors need to provide exemplary support. This was in evidence in the MQ reference survey, as both Jaspersoft and particularly Pentaho scored strongly on the customer support question — higher than any of the megavendors.
Información sobre Jasper:
significantly improved its offering in three major areas. First, it provided an extended metadata capability for full business-level abstraction of the underlying data models. Second, based on this extended metadata layer, it extended its ad hoc capability to create queries, reports and dashboards. Third, it improved its ad hoc query interface with an Ajax client and support for Flash/Flex. Much of Jaspersoft's early adoption has been through reseller and OEM agreements with Red Hat, MySQL, Ingres and Unisys.
Despite this momentum, Jaspersoft did score lowest of all vendors on one MQ Customer Reference survey question, which asked about the ability to support a large number of users.
Información sobre Pentaho:
after just four years in existence, has put together a comprehensive open-source BI platform that includes data integration and data mining capabilities. In 2008, Pentaho was noticeably more aggressive, openly competing against traditional BI platform vendors. Like Jaspersoft, Pentaho is affordable and also offers a subscription-based model that avoids an initial large payment for the software license.
Some of the significant features Pentaho introduced in 2008 include an automatic table designer that analyzes relational schemas and data patterns, performs a cost-benefit analysis of aggregation at different levels, and generates and populates those aggregate tables. Despite a handful of large customers, Pentaho reference survey respondents more frequently indicated that they had more departmental deployments (versus enterprisewide) and smaller data volumes compared with the other vendors.