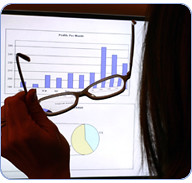 Articulo muy interesante
de Laurie Sullivan (analista de RFID-World.com, InformationWeek, Marketing Daily, y Advertising Age), donde explica las claves por las que las pequeñas y medianas empresas ya pueden utilizar y aprovechar las ventajas del Business Intelligence como las grandes compañías:
Os los pongo en inglés, tal y como lo cuenta Laurie (y lo cierto es que la explicación es muy sencilla y, apabullantemente lógica).
Si buscais información y asesoramiento sobre Business Intelligence en español, podéis contactar con los especialistas de Stratebi
De hecho, podríamos añadir que con soluciones Open Source o modelos On Demand, aun son más las posibilidades de las pymes para sacar partido:
1. Not all BI projects start with an expensive and lengthy investment.
2. Data warehouses aren't required to build a successful business intelligence project.
3. Multibillion-dollar companies analyze only 20 percent of the data they collect and store. Small and midsize businesses can outperform much larger organizations by increasing that percentage.
4. BI projects can transition into revenue-generating investments by designing reports and selling information to partners and customers.
5. Combining BI with service-oriented architecture (SOA) can streamline business processes and allow more people across a company to access and benefit from the data.
Ken Rudin , de
Lucidera
(BI On Demand),
lo lleva incluso mas a su terreno
, y, desde luego, no le falta razón.