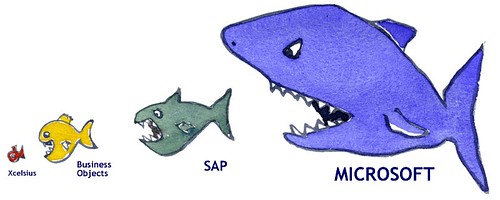 Parece que no hay tregua!! los ultimos rumores, confirmados con un alza en la cotización en bolsa de SAP, apuntan al creciente interés de Microsoft. No es la primera vez que se supone que se han iniciado conversaciones entre ambos gigantes (en el 2004 los rumores ya fueron intensos), pero el actual momento en que se mueve el sector hace que todo sea posible:
Las claves:
- La 'fuente' que ha lanzado tal posibilidad es Reuters, por lo tanto no se trata de una posibilidad remota.
- Tendríamos un nuevo ejemplo de
Duopolio
.
PCs: Dell and Hewlett-Packard.
Semiconductors: Intel and AMD.
Operating systems (enterprise): Windows and Linux.
Enterprise software: SAP and Oracle.
Virtualization: VMware and Citrix
Search: Google and Microsoft.
Browsers: Microsoft and Firefox.
Social media: MySpace and Facebook.
Rich Internet Applications: Adobe and Microsoft.
- Las ultimas compras: BO, proclarity podrían entrar en contradicción. Pero cuando hay 'estrategia empresarial' de por medio todo cambia.
- Una combinación de SAP y Microsoft podría ser la peor pesadilla para Oracle.
- ¿Cómo funcionarán las filosofías americanas y alemanas juntas? Habrá que recordar el ejemplo de Chrysler.
- La forma de vender SAP es muy difrente a como se vende Navision o Axapta.
- La mayor parte de analistas, a ambos lados del oceano no se lo creen... pero yo no lo tacharía tan rápido de la lista.
- Los responsables de SAP han dicho 'definitivamente NO'. Ser tan tajante, a veces, puede ser un síntoma de que hay algo detrás. Esperaremos.