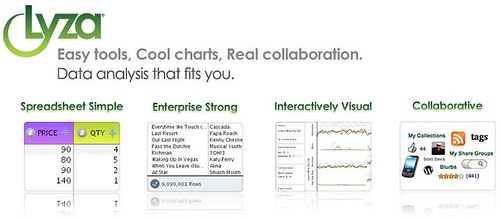 A través de Jos van Dongen , con el que coincidimos en el pasado Pentaho Developers (Jos es uno de los autores del Libro Pentaho Solutions), nos enteramos de la nueva versión de
Lyza
(que viene con nuevas e interesantes funcionalidades).
Lyza es una solución Business Intellgence que pretende aunar las funcionalidades de la llamada Web 2.0 y los contenidos Sociales en plataforma Business Intellgence.
Esta nueva versión viene con nuevas funcionalidades en tipos de gráficos, ad hoc visual data drilling, n-dimensional charting, advanced sorting controls, etc...
Su objetivo es poder tener una herramienta BI que potencie la colaboración en la empresa. Todos sus objetivos son muy loables y van muy en una linea que siempre hemos defendido por aquí, aunque al producto aun le queda algo de rodaje y mejora, es una buena alternativa.
Características
Versión de 30 días de evaluación
Blog de los desarrolladores
Pricing and Availability.
The new version of Lyza is available immediately for Windows, Mac and Linux. It is priced at $400 for a single machine, one-year subscription with unlimited online support and complimentary product updates, or $2000 per user for a perpetual license and one year of support.