Hay una web que llevan Clarise Z. Doval Santos y Joseph A. di Paolantonio , que es muy util para todos aquellos interesados en el mundillo del BI Open Source, se trata de
Open Source Solutions
, y os la recomendamos vivamente.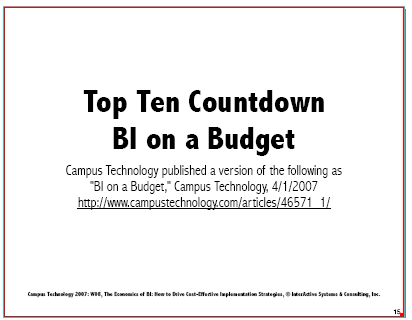 Ahí podemos encontrar contenidos muy interesantes como esta presentacion:
The Economics of BI:How to Drive Cost Effective Strategies , donde comentan un listado de las diferentes formas de acercarse al BI y un decálogo de consejos para realizar un buen Business Intelligence con un presupuesto ajustado. Además, podréis ver mucha mas herramientas de las que habreis escuchado y leido por aquí. Nosotros las hemos probado y analizado casi todas (ya las iremos comentando sucesivamente en otras entregas). Algunas de ellas, son proyectos que se han quedado un tanto estancados, pero otros están creciendo con fuerza.
Si alguno soñó en tener recopiladas todas las herramientas BI Open Source actualmente existentes , aquí estan (algunas estan en cierto estado de abandono, y otras de lanzamiento inicial):
Dashboard
MarvelIT Dash
Data Mining
CPAS
Rattle
RKWard
Weka
Data Warehousing
Bizgres
LucidDB for DW
MonetDB
Database
BerkeleyDB
Derby
Firebird
Ingres
Perst
PostgreSQL
ETL/EAI/ESB
Pequel ETL
Apatar
Apatar
Celtix
Clover ETL
CpluSQL
Enhydra Octopus
JasperETL
JetStream
Jitterbit
KETL
KETTLE
MiniETL
Mule
openDigger
ServiceMix
SnapLogic Open Source DI
Spagic
Talend Open Studio
Tuscany Proposal
WSO2 Oxygen Tank
OLAP
Cubulus
jPivot
Mondrian
OpenOLAP for MySQL
OpenOLAP for PostgreSQL
PALO
pocOLAP
Meta Data Cleansing Integrity
Power*MatchMaker
Reporting
Agata Report
DataVision
iReport
JasperReports
jFreeReport
OpenReports
OpenRPT
BI Suite
BEE Project
Jasper BI Suite
OpenI
Pentaho BI Project
SpagoBI
Roll Your Own
Eclipse BIRT
EFEU
JpGraph
PostgreSQL MDDB
Data Modeling
DBDesigner
dbwrench
Power Architect