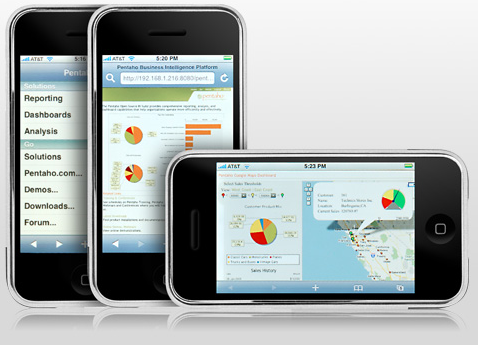 Pentaho
acaba de presentar la posibilidad de ver sus soluciones Business Intelligence en el popular iPhone (estando en la vanguardia en la visualización BI, respecto a otros grandes fabricantes).
Además, ya ha entrado en la lista de las 20 aplicaciones mas cool para el iphone .
The iPhone BI extension , ya esta disponible y funciona con la versión 1.7 Open BI Suite. Así que ya sabéis, todo aquel que tenga este terminal podrá ver los Cuadros de Mando de Pentaho desde sus 'nuevos' iPhone.
Leer sobre el
Tech Tip
que permite hacerlo funcionar.
Descargar el Codigo
para hacerlo funcionar.
Se trata de 8 sencillos pasos que nos permitirán hacerlo funcionar.
Para poder realizarlo se ha utilizado the open source iUI javascript / css framework.
Mark Smith, CEO & executive vice president of research de Ventana Research dijo: "La demanda para proporcionar BI dónde los usuarios comerciales operan, ha cambiado significativamente con los dispositivos móviles como el iPhone de Apple, que ha simplificado la informática comercial dramáticamente".
En cualquier caso, que mejor que ver una DEMO (tamaño grande),de Pentaho funcionando en el IPhone!!!