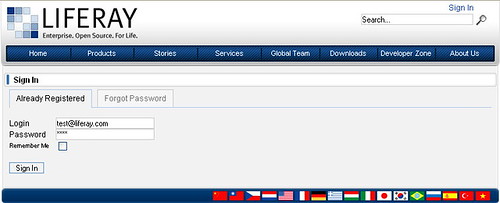 La vision tradicional del Business Intelligence nos lleva a fijarnos en las herramientas tradicionales de reporting, analisis OLAP, cuadros de mando, scorecard, data mining, etl, etc... sin embargo, en paralelo al desarrollo del concepto de Business Intelligence 2.0, cada vez cobran mas importancia los portales como contenedores de toda esa informacion y aporte de características importantes de seguridad, gestion de contenidos, manejabilidad por parte del usuario, etc...
Existen portales propietarios desde hace tiempo: Oracle Portal, Websphere... pero donde nos vamos a centrar es en los Portales Open Source. A continuación os mostramos un listado de los portales Open Source escritos en java mas importantes, empezando por Liferay, una autentica
maravilla, que nos permite construir potentes Portales Business Intelligence.

Liferay
- Es nuestra primera eleccion; las ultimas implementaciones que estamos haciendo con Pentaho usan como Portal Liferay. No olvideis echarle un ojo.
Exo
- Es un Portal bastante potente usado por SpagoBI (Business Intelligence)

Pluto
- Pluto is the Reference Implementation of the Java Portlet Specfication.
JA-SIG uPortal
- uPortal is a free, sharable portal bajo desarrollo
ByLine
- Byline is an open source (LGPL) content management, portal, usado para construir portales sofisticados.
Jakarta Jetspeed 2 Enterprise Portal
- Jetspeed es una implementacion Open Source de un Enterprise Information Portal, usando Java and XML.
Jahia
- Un gestor de contenido via web totalmente integrado; 100% Java based;

jPortlet
- jPortlet API es muy similar al IBM WebSpere Portal Server.

GridSphere
- 100% JSR 168 Portlet API compliant.
Cocoon Portal Framework
- Apache Cocoon is a web development framework.
jPorta
- jPorta esta construido sobre Jeenius Framework (
http://jeenius.sourceforge.net
).
MyPersonalizer
- MyPersonalizer es un J2EE-based framework.
Siemens Intranet Portal Framework
- Es un entorno basado en web, que permite organizar la informacion de forma jerarquica.
Lutece
- Es un portal web que permite crear portales con rapidez.

Sakai Project
- Proviene del mundo universitario con fines educacionales.

JBoss Portal
- JBoss Portal es usado por Pentaho como su portal de referencia y aparece en nuestras primeras demos.

Stringbeans
- Stringbeans es una plataforma para contrir portales empresariales.
InfoGlue 2.0
- InfoGlue is a GPL-based content management and JSR 168 Portal system.
NodeVision Portal
- NVPortal es Java Enterprise JSR 168 compliant Portal solution basada en BSD-License.
IPoint Open Edition
- iPoint Open Edition contiene muchos portles ya predefinidos..

Portals in Cocoon
- Corre dentro del servlet de Cocoon.

Enterprise-class
- Una opción del Sun java System.

Light
- Portal ajax y java que puede ser incluido en cualquier aplicacion.
Fuente:
Manageability