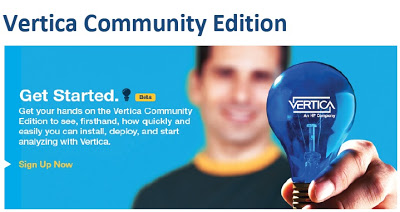 Una gran noticia que fabricantes propietarios, en este caso Vertica , con sus Bases de Datos orientadas a columnas y, sobre todo, para grandes datos, se acerquen a las comunidades, dejando disponibles ediciones para la comunidad. Podremos decir que tiene más o menos funcionalidades, pero es buen paso del que nos alegramos.
Portal de Vertica Community
Data sheet de Vertica CE
Estas son las limitaciones, que en muchos casos, pueden no ser tantas:
"As a no-cost offering, the Vertica Community Edition software will be limited to 1 terabyte of raw data, a three-node cluster size and Community Support only"
Si os decimos que son clientes de Vertica: Twitter, Zynga, Groupon... quizás os parezca más interesante. También comentaros que HP se gastó un buen dinero hace no mucho en su compra .

Nota de prensa de Vertica Community Edition