Ya se puede tocar!! el Libro 'Pentaho Solutions' , que han creado Roland Bouman y Jon van Dongen , ya está disponible para ser comprado, ojeado, olido, etc...
Además, como podéis ver en la foto, ya les ha llegado a los desarrolladores de Pentaho. Curioso, que el libro haya sido realizado por alguien que no está directamente relacionado con la corporacion.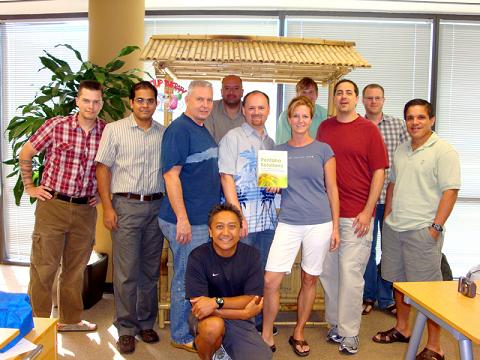 Descargar algunos extractos:
Read Excerpt 1 (PDF)
Read Excerpt 2 (PDF)
Read Excerpt 3 (PDF)
Que podemos encontrar en el libro?

Un repaso de todos los componentes de la BI Suite. Se explica como instalar, usar y mantener Pentaho con un gran número de ejemplos.
Se explica como crear un DW usando el ETL de Kettle, como usar las herramietnas de Reporting, como usar Mondrian, como usar los cubos de Jpivot, etc...
Como crear suscripcione, scheduling, etc..
Temario:

Introduction.
Part I Getting Started with Pentaho.
Chapter 1 Quick Start: Pentaho Examples.
Chapter 2 Prerequisites.
Chapter 3 Server Installation and Configuration.
Chapter 4 The Pentaho BI Stack.
Part II Dimensional Modeling and Data Warehouse Design.
Chapter 5 Example Business Case: World Class Movies.
Chapter 6 Data Warehouse Primer.
Chapter 7 Modeling the Business Using Star Schemas.
Chapter 8 The Data Mart Design Process.
Part III ETL and Data Integration.
Chapter 9 Pentaho Data Integration Primer.
Chapter 10 Designing Pentaho Data Integration Solutions.
Chapter 11 Deploying Pentaho Data Integration Solutions.
Part IV Business Intelligence Applications.
Chapter 12 The Metadata Layer.
Chapter 13 Using The Pentaho Reporting Tools.
Chapter 14 Scheduling, Subscription, and Bursting.
Chapter 15 OLAP Solutions Using Pentaho Analysis Services.
Chapter 16 Data Mining with Weka.
Chapter 17 Building Dashboards.