Este fin de semana se ha celebrado el 5º Evento de Pentaho Developers en Amsterdam . La agenda tenía muy buen aspecto, con los todos los lideres de cada proyecto y viejos conocidos presentes: Matt Casters, Julian Hyde, Thomas Morgner, Pedro Alves, etc...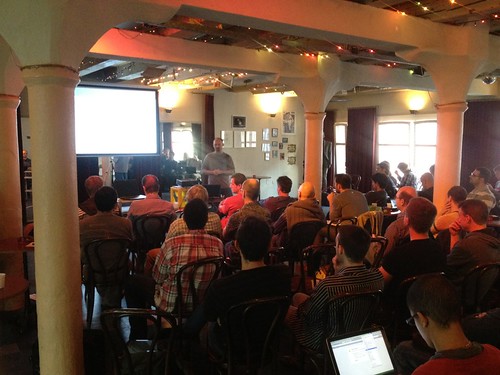 Siempre disfrutamos en estos eventos y, además de la buena asistencia (es como una familia que va creciendo), son muchas las novedades y actualizaciones del roadmap que se presentaron. Es dificil encontrar tanto talento y pasión por el desarrollo de nuevas soluciones BI Open Source juntas... :-)
Con la asistencia de desarrolladores de todo el mundo, desde Stratebi somos la única empresa española que ha estado en los cinco eventos celebrados. Os dejamos un resumen de años anteriores:
- Mainz (Alemania)
- Barcelona (España)
- Lisboa (Portugal)
- Roma (Italia)
Gracias a Bart Martens que hizo una cobertura en directo, podéis seguir lo contado en su blog .
Algunas Novedades del Pentaho Developers:
- Will Gorman comentó las novedades de la Sugar realease (nuevo respositorio -JCR-, data source management, REST APIs y un nuevo scheduler. También se comentó del nuevo Pentaho Marketplace para finales de año, junto a Webdetails.
- Slawomir Chodnicki comentó acerca de todas las mejoras que hace la comunidad para las versiones CE como Saiku, Saiku Reporting, Ctools, etc...por nuestra parte seguiremos potenciando STPivot y STDashboard (de los que vamos a seguir liberando nuevas versiones, muy pronto, stay tuned!!)
- Matt Casters, nuevamente en estos eventos es de los que aporta más y más contundentes novedades. Presentó la nueva versión Kettle 5.0 con tantas novedades que es dificil enumerar. Algunas:
new architectures and major features
easier looping, named parameters
Kettle metrics (logging tables + Gantt chart) !!! (interesantísimo...). inspired by Mozilla Metrics , this new feature will allow your Kettle installation to keep track of the time it takes Kettle to perform internal tasks like connecting to a database etc. All this data p0rn can be written to a logging table, allowing you to tune your ETL like there's no tomorrow.
job restartability (the Jens Project): transactional jobs, job checkpoints,
data federation: mainly the Kettle JDBC driver, which allows a transformation step to be used as a table in a SQL query, which generates a transformation in the background. Future improvements include Julian Hyde 's OptiQ integration. Impressive stuff! (by the way: an example use case of the Kettle JDBC functionality can be found on our blog ).
last but not least, there may be some room for metadata in Kettle 5.0 as well.
- Edwin Weber - PDI Data Vault Framework, (Ver Presentacion )que se puede descargar desde sourceforge
- Julian Hyde/Luc Boudreau - Mondrian 4. El humor e ironía de Julian ya es conocida. Lo mejor es que nos aportó una presentación que explica muy bien todo lo nuevo y el interesante roadmap por delante (incluyendo el lanzamiento del libro 'Mondrian in Action')
- Thomas Morgner comentó de incluir Crosstabs en Pentaho Reports
- Paul Stoelberger - Saiku Update, el visor olap sigue mejorando.
- Julian Hyde - OptiQ : a front-end for everything. Es nuevo y os recomendaría que le echaráis un vistazo.
OptiQ does a lot of database-like stuff, but it is not a database.
OptiQ is a really, really smart JDBC driver, a framework and a data source management system.
- Pedro Alves (Webdetails y compañeros). Nuevas Ctools
CDB - Community Data Browser
CDC - Community Distributed Cache
CDV - Community Data Validator
- Cees Van Kemenade - Community Dashboard Manager/Community Data Processor
Se puede decir que la comunidad de desarrolladores de Pentaho está... muy viva!!