Hoy tenemos una de esas noticias que nos gusta dar. Hemos dado un pasito mas en nuestra vocación por el Business Intelligence y el Open Source y nos hemos animado a contribuir de forma mas directa con la comunidad:
Desde TodoBi y Stratebi , hemos desarrollado un Plugin para Kettle (la herramienta ETL de Pentaho ), que va a posibilitar de importar y exportar datos de
PALO
.
http://sourceforge.net/projects/palokettleplug /
Se trata de poder unir dos mundos, el de las bases de datos ROLAP (Pentaho), con las MOLAP (caso de PALO), dentro del mundo Open Source, lo que creemos que puede dar un impulso al desarrollo de soluciones BI Open Source mas potentes, donde se incluyan temas de planificación, presupuestación, simulación, escenarios, con mucha mas facilidad.
Probablemente, queráis saber algo mas de PALO, os recomiendo estos dos enlaces:
- Post de TodoBI : PALO, cubos multidimensionales
- Post de Xperimentos , con las ultimas novedades (un gran blog que os recomendamos): Grandes novedades para PALO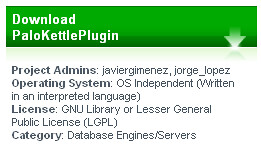 Documentacion de Kettle Palo Plugin:





Videos de Kettle Palo Plugin

Working with Dimensions


Write values in the cube cells

Como no, esperamos vuestras sugerencias, aportaciones, detección de bugs....