STPivot is an open source web based OLAP viewer , developed by Todo BI – Stratebi, completely free and open source , based on default Pivot viewer provided by Pentaho, writen on top of JPivot. The idea behind this project was to improve JPivot user's experience, by taking advantage of free user interface libraries and technologies (such as jQuery and Ajax).
If you are tired of old jpivot... (Jpivot is no longer being maintained or
JPivot has been replaced by Pentaho Analyzer.)

Now you have STPivot!!
...although default Pivot viewer in Pentaho have successfully pass the test of time (fully simple, functional and crossbrowser), in Stratebi our clients constantly asked for improved versions (closer to the state of the art). That´s why we develop STPivot, giving special attention to user interface and interactions (foreground).
You can download from here !!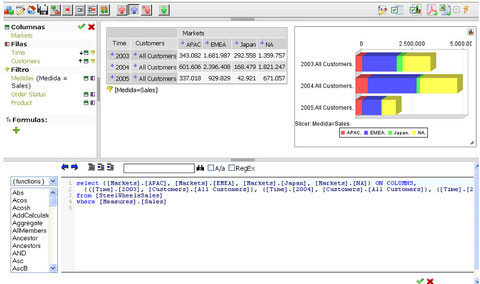 Main features included are:
Ajax interface
Use of jQuery to handle user interactions
Highlighted MDX syntax in the editor
Easier edition of charts (resizing with mouse, icons for options)
New set of icons
Formula Editor
Min, Max, AVG, SUM
Save Option
UI improvements
Set of documents and samples
Clickable members