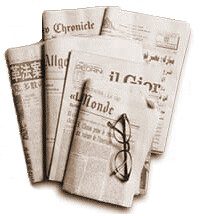 Ya está a vuestra disposición un resumen de las últimas noticias en el mundo del Business Intelligence, para que tengáis la información mas actualizada:
Ver otros BI Confidencial:
BI Confidencial (Octubre 06)
BI Confidential (Septiembre 06)
Bi Confidential (Junio 06)
BI Confidential (Mayo 06)
TDWI Radio News: Open-Source BI, Moving Beyond the Myths
Parece que Gartner ya ha empezado a bendecir el Open Source BI, y en TDWI se hacen eco con entrevistas especiales sobre el tema.
Gartner Reports on HP's BI Arrival
Parece que ya contamos con otro 'player' más en el campo del Business Intelligence. Y, se trata de HP, nada menos.
Hyperion to Acquire Decisioneering
Dado que Cognos, Oracle y Business Objects estaban muy activos en esto de las compras, Hyperion, no se quiere quedar atrás.
MicroStrategy Introduces Next-Generation Dynamic Enterprise Dashboards
Microstrategy se apunta a la nueva tendencia RIA. Construye sus Cuadros de Mando con Adobe Flex.
Cognos Brings BI and Performance Management to salesforce.com AppExchange
Puede que el acuerdo entre Cognos y Salesforce pueda ir mas allá. Desde luego, sinergias no les faltan.
Gartner: Vista Still Not 'Done'
Ohhhh...
Competitive Intelligence: The Latest Trend in BI
Parece que ya tenemos nuevo concepto de moda, aunque a decir verdad, nosotros ya veníamos hablando de esto hace tiempo.
Hiring Business Intelligence Professionals
Interesantisimo artículo en el que se dan una serie de consejos y técnicas para contratar y retener a los mejores profesionales del Business Intelligence.
Business intelligence the biggest focus for IT executives in 2007
Esto no es la primera vez que lo escuchamos, pero nos encanta que lo sigan diciendo.